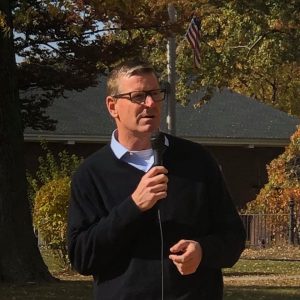 Michael Finn was first elected to the Massachusetts House of Representatives on November 5th,, 2010, and was sworn into office to begin serving his first term representing the people of the Sixth Hampden District in January, 2011.
Mike has previously served on the West Springfield City Council for eight years. During his tenure Mike served on many of the Town Council Sub Committees and held many leadership positions.   He served on the Traffic Committee, was Vice Chairman of the Budget Committee, Chairman of the Ordinance Committee, and served as President of the City Council.  Helping the Town move forward with a new High School is one achievement that Mike is most proud of.
Mike's commitment to public service started much earlier though when he enlisted in the Massachusetts Army National Guard.  Mike served his Country and the Commonwealth for eight years and he was Honorably Discharged from service in 1998.  Those early years in the National Guard taught Mike valuable life lessons about Discipline, Dedication, and Perseverance and about the importance of strong leadership. This is experience that Mike still draws from today!
Mike started a career in law enforcement shortly after he returned from basic military training. Mike accepted a position at the Hampden County Sheriff's Department as a Corrections Officer in 1993. Mike stayed with the Sheriff until 1995 when he left to accept a position with The Massachusetts Trial Court as a Court Officer.  Mike worked for the Trial Court for fifteen years before his election to the legislature.   Mike credits those two positions with developing his compassion for others and learning how to treat people well when they are at their worst.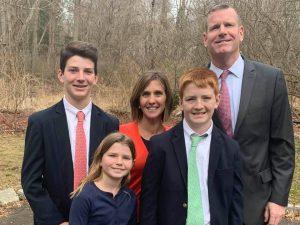 In 2002 Mike married his wife Jennifer (Masi). Mike and Jen have three beautiful children Charles (14), Peter (13), and Molly (10).  Before becoming a full time mother, Jen worked as a first grade teacher at Fausey Elementary School for nine years.  Supporting education has always been a priority for Mike.  Helping his wife in her classroom and getting the chance to meet so many kids kept Mike focused on the importance of education.  Raising a family of his own has shown Mike the real importance of a high quality education and this has become one of his highest priorities.  Mike is a graduate of St. Mary's High School in Westfield and also attended North Adams State College.
Mike credits all of his life experiences with making him who he is today.  The lessons he has learned along the way are what Mike draws upon in making tough decisions every day.  Tough decisions that impact our lives daily and that will make Massachusetts a stronger and more vibrant place to live, work, and raise a family.